Traces of the Middle Ages are embedded all throughout the city of Paris. A stroll through most of the Ile de la Cite provides a glimpse into the past, when Romans ruled the city of light and Paris looked much different than it does today. Let's walk through some of the history of medieval Paris and discover where we can still see remnants of ages past.
---
Now more than 2,000 years old, Paris' birth was on the island of the Ile de la Cite where Celtics settled on the Seine. The city was first called Lutetia from 58-50 BC and occupied by a local Parisii tribe; this is where the name "Paris" would come from. Paris later expanded into what is now Le Marais, or the "swamp".
The Roman Era in Paris was around 500 CE, during the 11th and 12th centuries. Romans mainly occupied the area between Mount St. Genevieve and the Ile de la Cite, with its central sight being the Place du Pantheon. Fast forward to 987, and Paris would become the capital of the Capetian dynasty. The Capetians ruled for 800 years and expanded their control throughout France. This time period was one of education, religion, and a peaceful period of power. Great medieval architecture would continue to spread and be constructed under the Capetians and end in 1328 with the death of King Charles IV, the last Capetian king.
So where can we still see traces of medieval influence in Paris? Here are some easily-recognized facades of medieval architecture.
Notre-Dame de Paris
Notre-Dame took almost 200 years to build and really set off a Gothic architecture boom throughout France. It influenced the construction of further Gothic cathedrals to be built later on.
Photo credit: Phyllis Cartwright
Sainte-Chapelle
Sainte-Chapelle, in contrast to the extensive construction of Notre Dame, took only 6 years to be built. Sainte-Chapelle's purpose was to house treasures of Louis IX received from Emperor Constantinople, the most significant being the crown of thorns.
Photo credit: Phyllis Cartwright
Musee de Cluny
Musee Cluny is a museum dedicated to the Middle Ages and is known for the famous Lady and the Unicorn tapestry. It is built on the site of ancient Roman thermal baths and is probably the best example of medieval architecture in the city.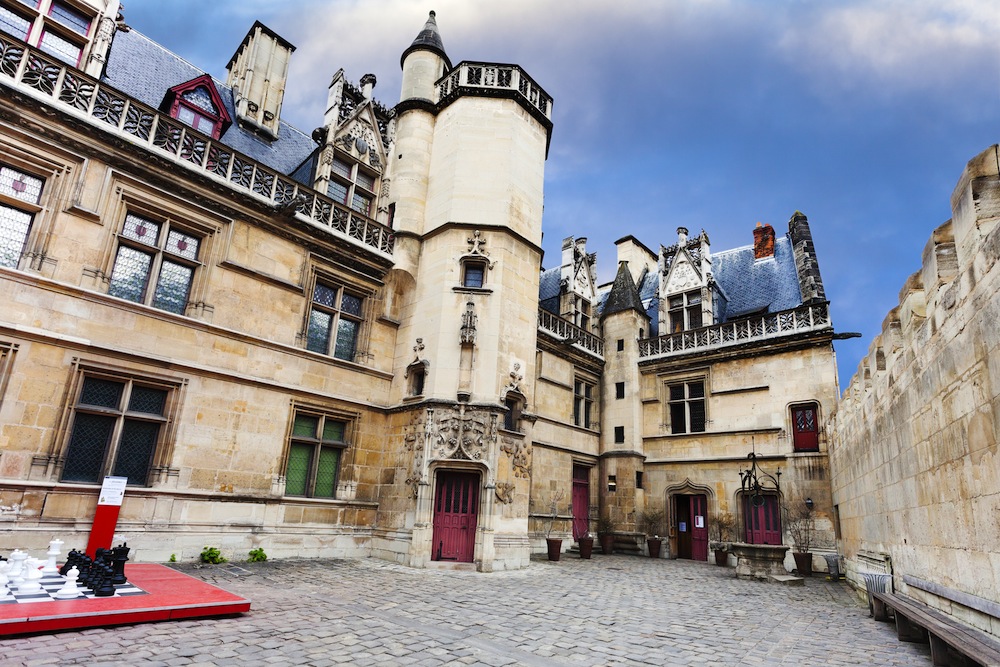 Conciergerie
The Conciergerie was built during medieval times and was the headquarters for French kings from the 10th-14th centuries. Later, the kings would move across the Seine to the Louvre, which became the new royal palace. The Conciergerie was transformed into a prison for those waiting to be executed. It's most famous prison resident is the one and only Marie Antoinette. You can tour the Conciergerie and see where she spent her remaining days before being publicly beheaded. The Hall of Guards is the foremost enduring medieval construction within the Conciergerie today.
Photo credit: Phyllis Cartwright
Wall of Philippe Auguste
Head on over to Rue des Jardins Saint-Paul in Le Marais to see Philippe Auguste's medieval wall. This was the last wall to encircle the entire city during the Middle Ages. Damaged during WWII, what you see today is all that's left of the wall.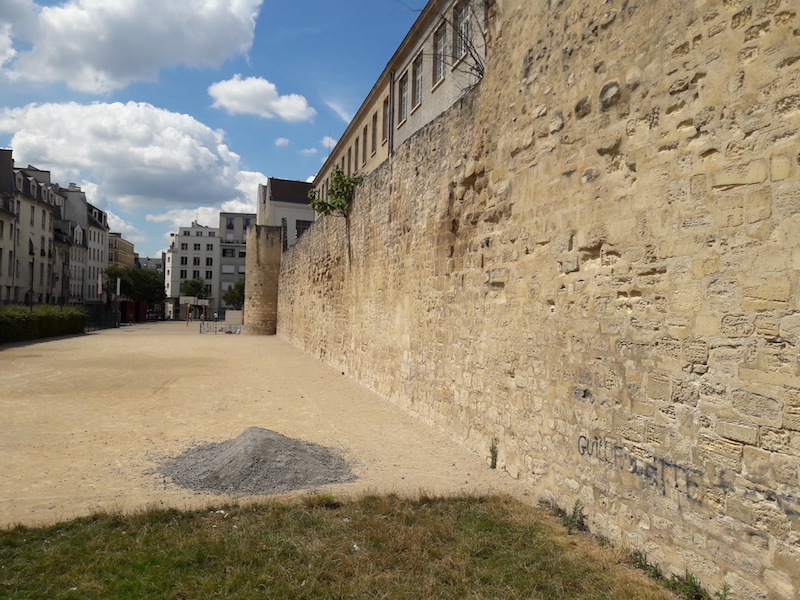 Hotel de Sens
Hotel de Sens was originally built as a medieval residence. The City of Paris purchased the property in 1911 and began its long and problematic restoration. Complete with medieval towers flanking its entrance, it is now home to the Forney art library and a picturesque garden.
Photo credit: Phyllis Cartwright
Arenes de Lutece
This Roman arena was used to house crowds, served as a lion's den, as well as a gladiator's arena for spectacles. Much less dramatic today, it is now a playground for local children and a spot for Parisians to hang and attend concerts.
Photo credit: Phyllis Cartwright
---
Paris has the superb ability to transport one back in time through knowledgable exploration. Surrounded by remnants of history, it's not hard to unravel the story of this illustrious city; one that's filled with adventure, personality, tragedy, and triumph.
What are your favorite medieval spots in Paris? Are there some not mentioned here you would recommend? If you share a love of this city, and its history, I wish you well on your journey to discover Paris beneath its glamorous exterior and into its rich saga.
Travel far and travel often…bon journee!